Don't miss out on $7,000+ in cash and prizes at NOS Energy Drink's IMPORT FACE-OFF on Sunday, April 29th at Palm Beach International Raceway in Jupiter, FL. Visit
http://www.ImportFaceOff.net
for all series info.
EVENT ACTIVITIES
- Car/Truck/and Bike Show
- 1/4 Mile Drag Racing (competition or test and tune)
- Stereo Crank it up Contest (Usaci double points)
- Burnout Contest (time permitting)
- Vendors midway (open expo for area shops)
- Live DJs and Giveaways
- Series coverage by Performance Auto and Sound, Super Street, Honda Tuning, and Import Tuner magazine
PRICES
- Spectator $15 with Flier (reg $17) Children under 10 FREE
- Car Show Contestant $30 (comes with free trial PAS mag subscription)
- Competition Drag Racer $30 (Import/Sport Compacts only)
- TnT Drag Racer $30 (Any make/model welcome)
*$5 off competition fee if
PREREGISTER ONLINE
(deadline 4/27/12)
DRAG CLASSES AND PAYOUTS (full rules on IFO website)
FWD Q8- 1st $1000, R/U $400, Semi 1 $100, Semi 2 $100
FIP Q8 - 1st $1000, R/U $400, Semi 1 $100, Semi 2 $100
FIS Q8/16 - 1st $300, R/U $100, Semi 1 $50, Semi 2 $50
AMP Q4- 1st $500, R/U $200
AMS Q4 - 1st $200, R/U $100
OL Q16- 1st $2000, R/U $1000, Semi 1 $500, Semi 2 $500
BR - 1st $150, R/U $50
*complete fields rqd for full payout
TNT - open to any make/model
If you would like to help pass out fliers while making some extra cash, please email your 1) full name, 2) complete mailing address, and 3) amount of fliers you'd like (envelope of 200 or box of 500) to hybridentertainment78@yahoo.com Promoters are assigned a number and are paid on commission, $2 for every flier that comes in with your number on it. Spectators bring in the fliers because of the $2 off admission coupon. Checks are mailed out within a week after the event. The program pays well if you get enough fliers out. There are successful, repeat promoters every year at every location. Here is what the flier looks like...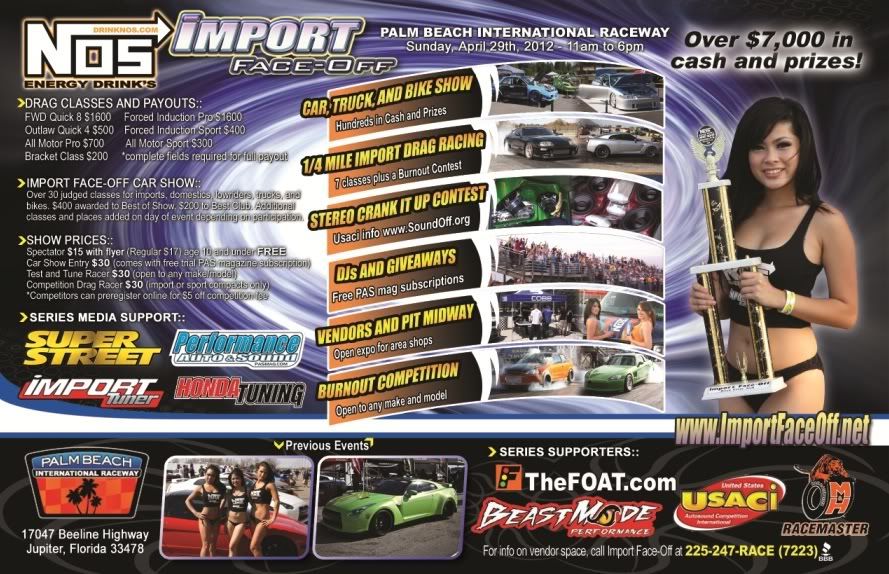 PREVIOUS EVENTS
http://www.youtube.com/watch?v=ZyivdEQJg5o
http://www.youtube.com/watch?v=gLygOCuwSts
http://www.youtube.com/watch?v=8w7dtiqyYz4
2012 IMPORT FACE-OFF SCHEDULE (tentative)
January 15 – Fontana, CA – Auto Club Dragway
January 22 - Bradenton, FL - Bradenton Motorsports Park (3rd annual)
January 29 - Tucson, AZ - Southwestern International Raceway (5th annual)
February 12 – Gainesville, FL - Gainesville Raceway (4th annual)
February 19 – Reynolds, GA - Silver Dollar Raceway
February 26 – Baytown, TX - Royal Purple Raceway (8th annual)
March 4 – Shreveport, LA - Thunder Road Raceway Park (9th annual)
March 11 – Belle Rose, LA - No Problem Raceway (12th annual)
March 18 - Wichita, KS - Kansas International Dragway (3rd annual)
March 25 - Rockingham, NC - Rockingham Dragway (2nd annual)
April 1 – Crofton, MD - Capitol Raceway (3rd annual)
April 15 – Noble, OK - Thunder Valley Raceway (9th annual)
April 22 – Columbus, OH – National Trail Raceway (7th annual)
April 29 - Jupiter, FL - Palm Beach International Raceway (2nd annual)
April 29 – Ennis, TX – Texas Motorplex (7th annual)
May 6 - Las Vegas, NV - The Strip at Las Vegas Motor Speedway (3rd annual)
May 20 - Epping, NH - New England Dragway (3rd annual)
May 27 - Woodburn, OR - Woodburn Dragstrip (2nd annual)
June 3 – Kent, WA - Pacific Raceway (3rd annual)
June 3 - Tulsa, OK - Tulsa Raceway Park (6th annual)
August 26 - Crofton, MD - Capitol Raceway (4th annual)
September 2 – Topeka, KS – Heartland Park
September 9 – Noble, OK – Thunder Valley Raceway (9th annual)
Spetember 16 - Spokane, WA - Spokane County Raceway
September 23 – St. Louis, MO – Gateway Motorsports park
September 30 - Columbus, OH – National Trail Raceway (7th annual)
October 7 - Gainesville, FL - Gainesville Raceway (4th annual)
October 14 - Epping, NH - New England Dragway (3rd annual)
October TBA - Jupiter, FL - Palm Beach International Raceway (2nd annual)
October 21 - Baytown, TX - Royal Purple Raceway (8th annual)
October 28 – Charlotte, NC - Zmax Dragway
November 4 - Montgomery, AL - Montgomery Motorsports Park (10th annual)
November 11 - Ennis, TX - Texas Motorplex (7th annual)
November 18 - Baton Rouge, LA - State Capitol Raceway (7th annual)
December 2 - Las Vegas, NV - The Strip at Las Vegas Motor Speedway (3rd annual)
December 9 - San Antonio, TX - San Antonio Raceway (8th annual)
December 16 - Jupiter, FL - Palm Beach International Raceway (2nd annual)